Our retreats are based at The Court, a 1600s thatched house slap bang in the middle of the quaint old village of Sheepwash, mid way between Okehampton and Bideford in North Devon. Our house is on the corner of the village square, opposite the Half Moon Inn, a gastro pub. Sheepwash has a well stocked community shop (which offers a post office, wine etc and cashback up to £25) and there are far reaching views across the rolling Devon hills.
The Court – a history
The Court was first known to be a public house throughout the 1800s, and was called The White Hart Inn. Several of its landlords and other residents are mentioned in the many census returns from that time, and it's from there that we get most of our room names. In the 1900s it was a general store, including when the Jones family lived there from the 1930s.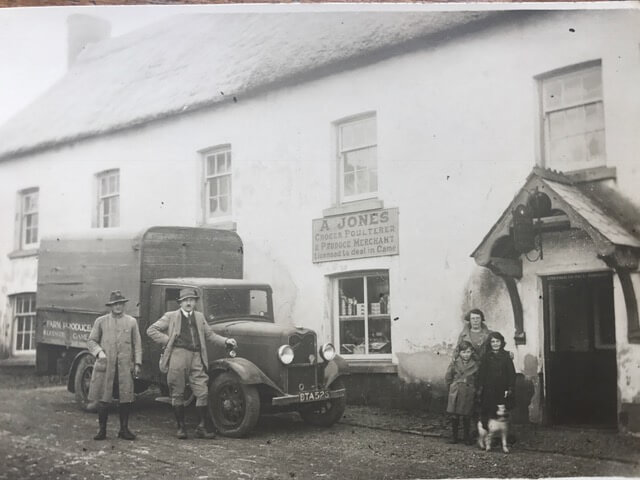 It became a writers' retreat and guest house around 2009 and has welcomed many aspiring and successful authors as well as other guests since then. There is a special bookshelf holding signed books from authors who worked on them during their time here – hopefully yours will be there one day too!
Take a look at our latest video tour here and please contact us with any questions: info @retreatsforyou .co.uk
About Debbie
Debbie Flint is a TV presenter and author, having achieved that sought-after moment of seeing her first book in shops – Take a Chance on Me, from the award-winning independent UK publisher Choc Lit, reached number 79 in WHSmithTravel outlets in 2016. She was writing that book, originally called 'Hawaiian Affair,' when she first visited Retreats for You for a tutored workshop with top author and mentor Julie Cohen. She fell in love with the place and returned soon after, little knowing that a couple of years later it would be up for sale.
In January 2017 she took over the reins at Retreats for You after a fabulous handover from Deborah Dooley, founder and former owner. Debbie sometimes has help from friends who live locally including Wendy, Caitlynne and Linda. Sian and her housekeeping team consisting of Jayne and Chris, look after the place when Debbie is not there and when it is a holiday let. A very successful weekly Wednesday tea room event has previous run, including some Saturdays too. Debbie has been keen to maintain all the special touches that regulars love. The five star reviews on our Facebook page are proving that the best aspects of Retreats for You are all still there – read more here.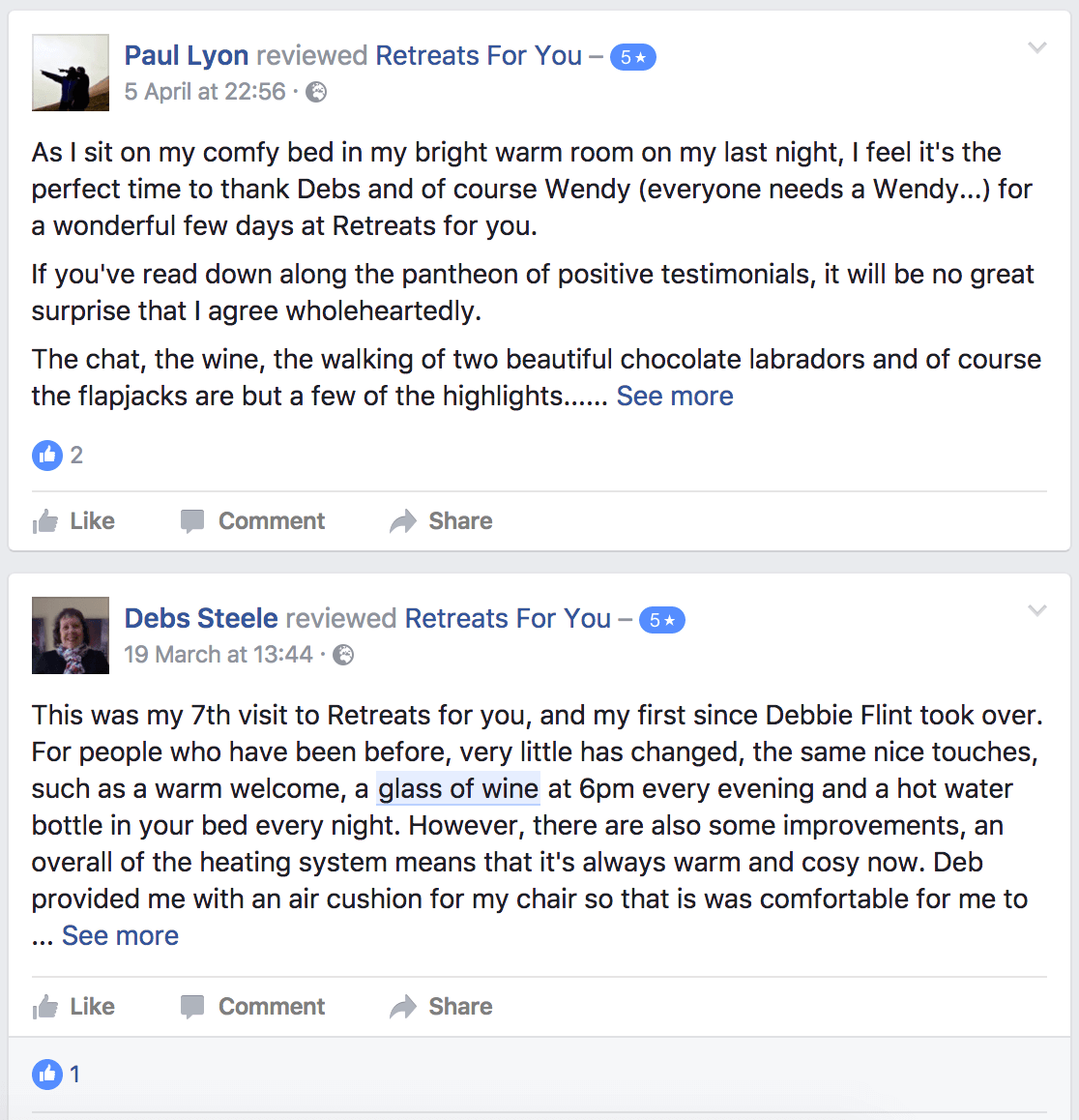 Debbie loves Sheepwash, whilst combining it with her TV presenting work at QVC, and visiting her two grown-up children in and around London. You can find her in the village shop volunteering, helping run events for locals, and also writing articles for the local press including the Sheepwash Chronicle. For meal times at Retreats for You, Debbie specialises in healthy eating menus and also makes a mean banana bread and home-made loaf, home-made yoghurt and veggie soup.  RFY can accommodate niche dietary needs, just email us for more info – including gluten free, dairy free, vegan etc (some for a small supplement.)
Debbie is currently finishing her fifth novel – a work-in-progress set just after the First World War.
She writes several blogs including her weekly QVC presenter blog, and Read it Write it Sell it, (RiWiSi) a book blog featuring her latest book of the week. There is also an occasional health blog too, and she is the author of the 'Till the Fat Lady Slims' series of non-fiction books with its thriving online support system.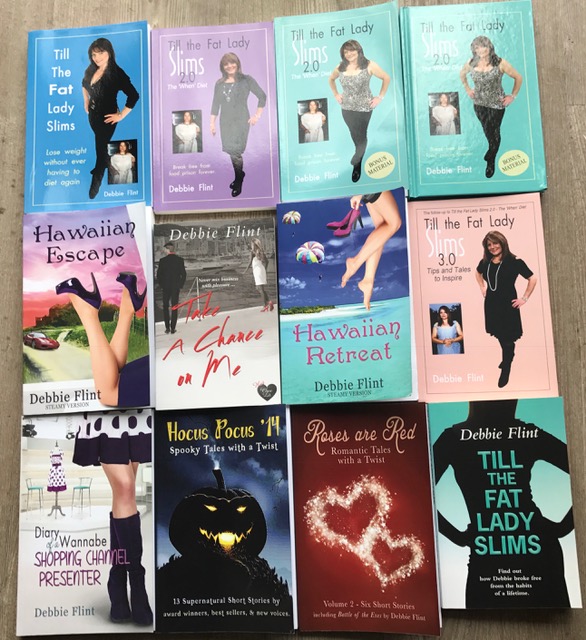 Visit Debbie's Amazon here or her website, debbieflint.com here. Debbie is on Twitter @debbieflint and her Facebook page is DebbieFlintAuthorQVC page. Please message her to follow you back and we love to see our guests tag @retreatsforyou in your posts when you are due to visit.
She also offers a unique service to writers or other visitors, having done many years of presenting and training other presenters: one-to-one media training eg for authors to brush up on interview skills for TV and radio. Email info @ retreatsforyou.co.uk for more details and to book in advance. Free on selected dates.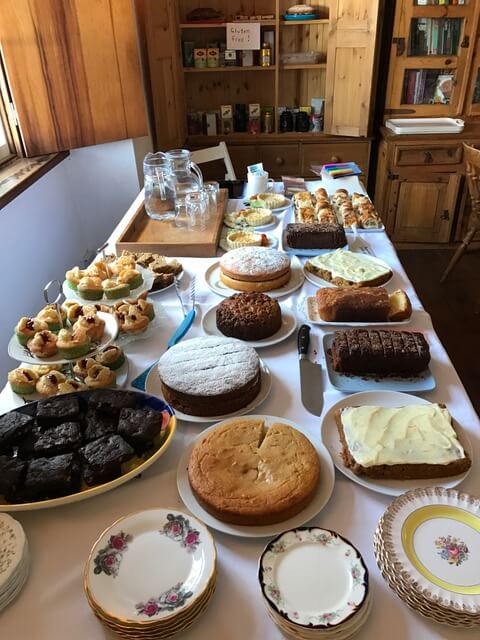 For more updates, news and regular posts, follow us on Twitter @RetreatsforYou and 'like' our Facebook page – we post special offers there first. You can also find us on Instagram.