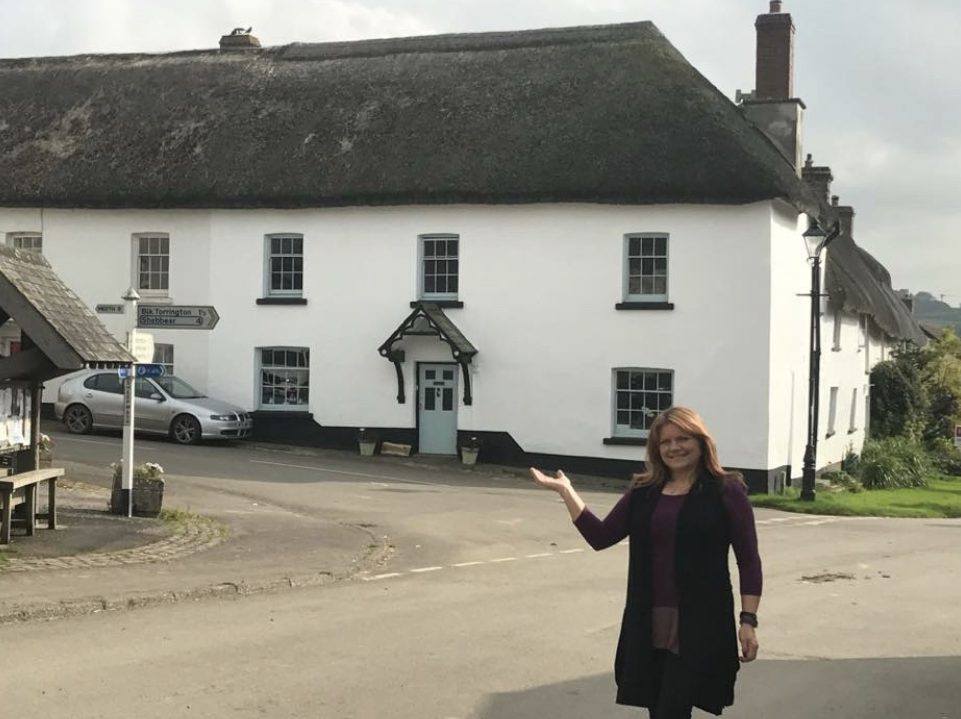 Whilst Retreats for You is perfect for the writer looking for the ideal retreat, we also offer outstanding hospitality for any non-writer guests.  Below, you can check out all of our rooms and the facilities each offers then initiate your stay by contacting us through the online enquiry form.
Please note: if your stay coincides with an event, there will be event prices. Visit our Themed Events page for more information about event dates – from specialist writing workshops to 'yoga for writers' weeks to occasional hobby retreats, we have several through the year.
Room facilities
• Writing desk and lamp
• single or double bed
• tea and coffee-making facilities
• white fluffy towels, robes and slippers
• hairdryer
• adjustable heating
• strong WiFi with three broadband hubs throughout the property
Extras (included in the price)
• Massive fireplace with woodburner
• mini home gym in new studio
• laundry facility
• TV & Sky in studio. Surge-protection plugs in each room
• wellies, jackets, fleeces and slankets (blankets with sleeves) to borrow
• 2 bathrooms, stocked with bubbles, scrubs, shampoos and lotions
• electronic massage chair plus specialist support cushions for writers, just ask
• library of books to borrow including 'how to write' section; plus advice about self-publishing or media skills from Debbie in quiet moments
• piano
• walled back garden
• many different places to sit and write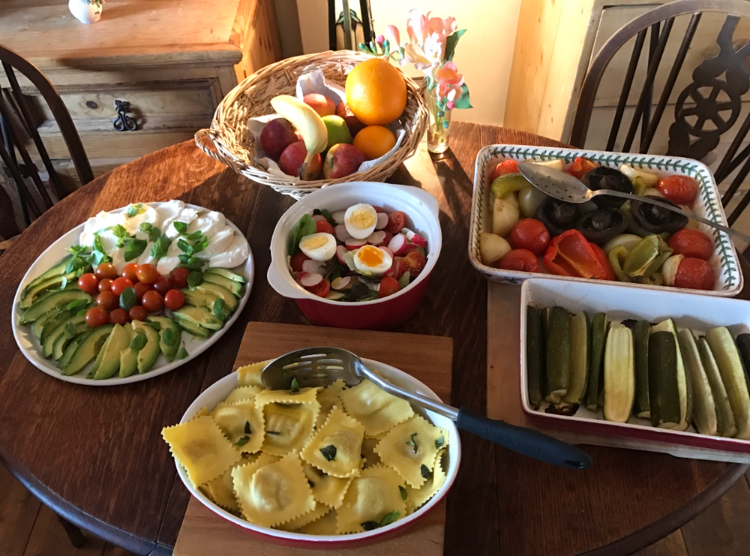 Hearty home-cooked supper; plentiful buffet lunch of help-yourself salads, dips, etc inc eg home-made soup; plus – a big hit with our guests – SELF-SERVICE ANY-TIME breakfast of help-yourself home-baked bread/toast, fresh home-made yogurt and local jams, OJ, many cereals, spreads, egg-boiler – early or late it's your choice.
Full board retreats, own room; inc wine at supper.
There are two en suites available if you book early.
(Nb George room, is huge room overlooking square inc king sized bed, character beams, chez longue and armchair plus faux woodburner. It is not en-suite, but has sink. Rarely available but ask.
For up-to-date pricing and available events go here.
Around the village
Sheepwash has a local village shop with small post office (with bank limit cash withdrawals) and cash-back facility up to £25 • gastro pub • beautiful walks and local fishing (by licence) • local yoga studio • local therapists and massage by appointment • many local tourist attractions, National Trust properties and coastline just 35 mins drive away
The Sheepwash Chronicle is our local magazine with its own website for latest news about the village.
Barn bedroom, room 7, in the annexe
We also have a seventh bedroom which is a writing room that doubles up as a bedroom when needed. It is in the ancient Granary barn, across the courtyard from the main house. Here is the view looking back towards the main house from the edge of the barn – it is just a step and a hop away.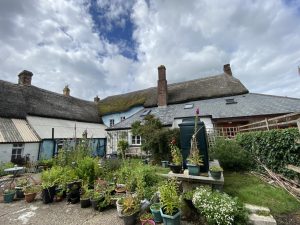 The little room in what used to be the granary barn has its own portaloo, and superb views across the distant hills. Ideal for people who love to be in absolute peace and quiet away from others, or just need to focus without any interruption. Comfy Single bed, can be converted to a twin room.
This is the view from your room across the distant hills.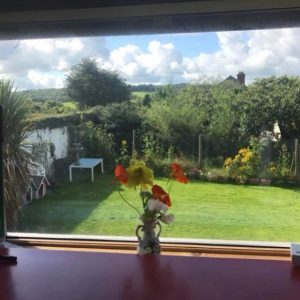 This is the interior view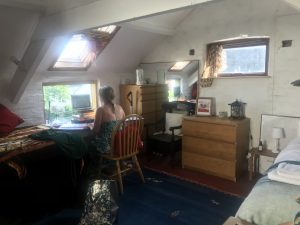 Please indicate if you would prefer the peace and quiet of this room. Please note you are welcome to take a tray with your buffet lunch or even your evening meal out to this room. An umbrella is provided in inclement weather. Please note the barn room does not have running water but does have an emergency chemical toilet (emergencies only.)
Please read a customer testimonial entitled – Why Book The Barn Bedroom?