UPDATE: Currently nearly all of our events are looking at a waitlist situation, but it's worth enquiring. Please revisit us at the end of the Summer for an update on new dates. Our holiday let business is thriving, please check out holiday let page as an alternative.
Marnie Summerfield Smith is a ghostwriter and memoir mentor who has helped more than 100 authors to write their stories. The primal desire to have our story heard is the heart of her work. She loves working with people to explore and deepen their stories and bring them into the world, whether it's for an author's personal satisfaction or a wider audience. We are thrilled to be welcoming Marnie and offering our first memoir writing retreat later this year.
Wherever you are on the memoir writing journey – at the very beginning, stuck in the middle, or nearing the end – Marnie will meet you and guide you to where you want to be. Attendees will have the opportunity to speak to Marnie in advance of the retreat and she will also read 5,000 – 10,000 words of your work. This way she will tailor your week to meet your individual needs. She promises that the retreat will move your project along in a completely personalised way.
The course will run for 4 nights from September 27th 2021 (replacing previous April 12th date). There will be workshops on topics such as how to start, considering audience, what to include and omit, structure, truth-telling, theme, dialogue and using the stylistic elements of fiction to give the reader an exciting but authentic reading experience.
Spaces are limited to 5.
What people say about working with Marnie:
This was a brilliant weekend – way above my expectations. Marnie just knows about memoir and her presentations were superbly focussed and paced. It's rare to find someone who combines a high level of professional knowledge with the relational skills that make it all work. If you are needing support with your writing, hire this woman!
Edna Murdoch
Marnie was wonderful. She is a really good coach and created an atmosphere of absolute trust and calm and allowed people to write, and then read, some of their really intimate personal memories. I hope that she does more workshops; I'd go just to hear her – she's terribly funny apart from anything else.
Alastair Burtt
Although I met you when the book was almost finished, you were a breath of fresh air, who helped me dig deep and bring the suppressed memories to the surface in a couple of the most difficult chapters I had to write.
Hana Ali, author of At Home With Muhammad Ali.
Absolutely loved every minute of this amazing memoir writing retreat, and the time spent with such lovely people, sharing their deeply touching life experiences. Special thanks to you Marnie for all your encouragement, support and know-how. Marnie helped me with my first book and now I am going to write the sequel myself. Feeling truly inspired and motivated with a healthy dose of self-belief that I can actually do this now!
Sally Woodmansee
A couple of weeks after the Memoir Writing Weekend, I am reflecting on what a difference it has made. For a long while I have had a desire to share my story, I did not have a clue how or where to start. All I knew is that there was at least one story there to be told. The workshops helped put everything into place, an approach and a structure, to get me started and put the words down. Marnie's encouragement during that weekend has given me the confidence to write. She has shown me that writing should be a natural process and to visualise the experiences I wish to share as scenes. As a first time writer, I am now well underway.
Rose Smith
Throughout the whole editing process I felt both expertly held and simultaneously challenged to push my memoir to rewarding new heights. Marnie instinctively knows how to inspire with insightful suggestions whilst marshalling disparate strains of thought into cohesive order. My project was particularly exposing on a personal level and Marnie handled everything with extraordinary insight and sensitivity. I can't imagine getting a better result or service with anybody else.
Paul Beech
Some of Marnie's books can be found here:
Home From War: How Love Conquered the Horrors of a Soldier's Afghan Nightmare
At Home with Muhammad Ali: A Memoir of Love, Loss and Forgiveness
The Simple Philosophy Of Heaven: The true story of the unbreakable bond between mother and son
Riding The Storm: A Memoir of Mental Illness
Itinerary:
Monday
Arrive lunchtime
Introductions & welcome
Planning of one-to-ones/finalising workshop topics
Workshop topics can be done individually or in smaller groups
I am flexible and anyone should feel free to write when the mood takes them and I will accommodate accordingly. Sharing our stories and writing is always optional and no one will feel pressured to do so.
Tuesday
Morning workshop/individual/group writing
Lunch
Afternoon individual/group writing/one-to-ones
Wednesday
Morning individual/group writing, one-to-ones
Lunch
Afternoon workshop/one-to-ones
Thursday
Morning workshop/individual/group writing
Lunch
Afternoon individual/group writing/one-to-ones
Friday
Morning workshops on traditional/independent publishing
(Or we may do this Thursday evening, depending how we all feel)
Followed by planning what to write next and how we can fit memoiring into our lives once we are home
Lunch
Departure
Included in the price is one catch-up call/Skype session with Marnie following the retreat.
All the usual treats are included as well as full board, no chores, wine at supper and afternoon tea/coffee/cake.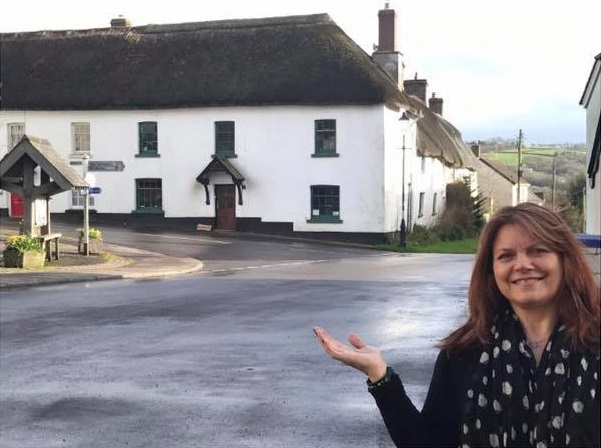 About Retreats For You…
Retreats For You is a 17th century thatched house in a picturesque North Devon village, with beautiful countryside walks. There is a mini home gym, a delightful summer house in the garden, excellent broadband, and pretty courtyard. Your own room (or ensuite, optional extra – first come first served) is equipped with filtered water jug, tea and coffee making facilities, writing desk and lamp, fluffy dressing gowns and towels, slippers, sleep spray, crisp white Egyptian cotton bedding and really comfortable mattresses. One is a Sealy Posturepedic! All have memory foam.
The quaint village of Sheepwash is in between Bideford and Okehampton and reached by car (there is ample parking) or taxi from Exeter Saint Davids station.
Our regular retreats are from £98pppn if you want to 'just write'.
This is our first memoir writing retreat and is already generating lots of interest so please book early. A deposit of £125 is payable now, with the balance due a month before the retreat when we will invoice you and be in touch with more information.
The total cost for the retreat, full board including wine at supper is £642 per delegate (£116 supplement en suite room – first come first served.) A reminder that this includes the opportunity to speak to Marnie in advance of the retreat. She will also read 5,000 – 10,000 words of your work. You are also entitled to one catch-up call/Skype session with Marnie following the retreat.
In the first instance contact us here at [email protected] for details.
Or text 07949 052208
For more about Marnie please visit:
yourmemoir.co.uk
Twitter: MarnieMemoirs
Instagram: MarnieMemoirs
Join Marnie's mailing list and receive her Memoir Writing Guide FREE
STOP PRESS – Aug 2021
From Marnie –
"our course is now full and fortunately we have managed to accept one waitlist person because somebody dropped out. Don't hesitate to be on the waitlist at retreats for you, you never know!
If you are awaiting news of my next date for 2022, why not join me for some distance learning?
If you wanted to get going meanwhile, I have an online course 
starting on September 21st, 2021:
And in October 2021, I am starting virtual online writing retreats, for a couple of hours on Friday – to give people a space and time to write.
Pls also join my
newsletter
list, so I'm sure you'll get notice of what I'm up to and how you can join in.
And if you're coming on the retreat on the 27th of September in Devon, I look forward to seeing you there!"