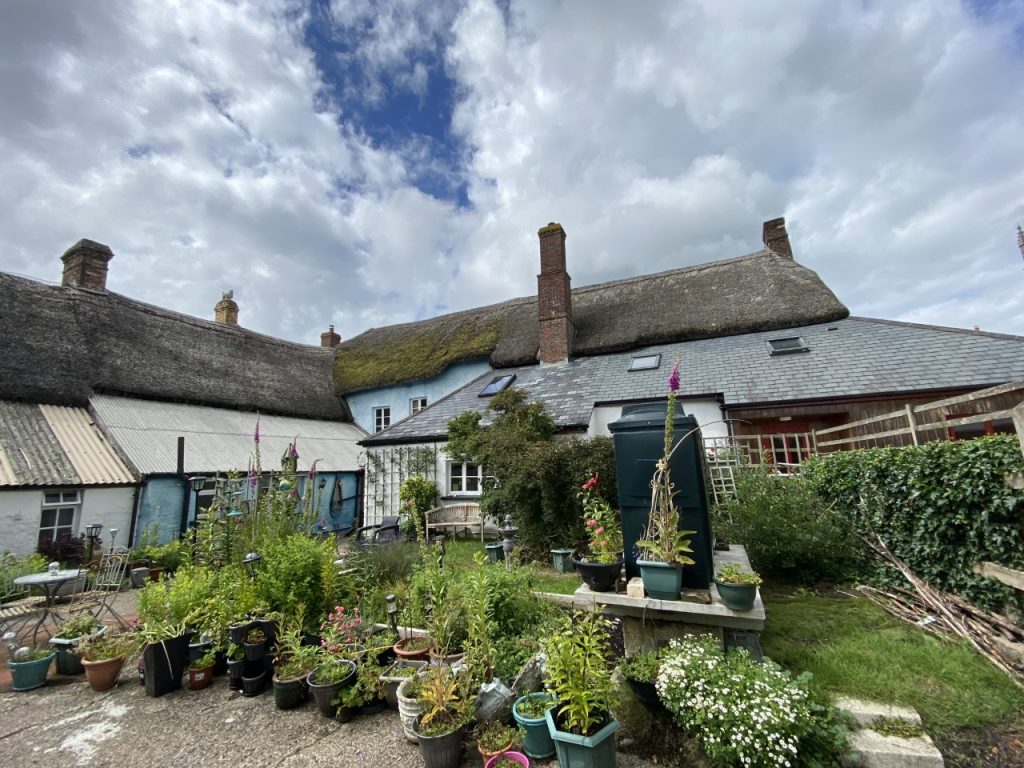 Summer 2020: You can now rent the whole house as a holiday let. It is on cottages.com, (where you can see the calendar and availability) but contact us direct using the usual email or the mobile, and listed at the bottom of this page. (Nb Writing Retreats will continue on average once a month going forwards, starting autumn 2020. Many have been postponed until 2021. Please enquire about dates…)
The Court, in Sheepwash Village Square, North Devon, is a 1600s, Grade 2 listed, thatched house with a courtyard, external buildings and garden. It is grade 2 listed and benefits from several old features like an inglenook type fireplace and some exposed beams & lots and lots of history.
It is a 6/7 bedroomed roomy house which sleeps 12–16 (Single occupancy is max seven; More if you bring 'put-you-ups' in the studio). Outside there is a an old granary barn with lovely views across Devon countryside. We have a walled garden, a mini gym, good broadband connection, very large rooms, Inc large dining room, large sitting room with cosy wood burner & piano, well-equipped kitchen, and rear lobby with option for dogs to stay (please see guidelines regarding your pooch). Bedrooms have B&B type facilities such as tea and coffee-making in every bedroom, dressing gowns, fluffy towels, sleep balm/spray/ear-plugs and gorgeous crisp white, high threadcount cotton bedding & choices of pillow. The beds are extremely comfortable, many have memory foam or superior mattresses. There is a writing desk and lamp in each bedroom because we are also a writing retreat (see other pages). Two of the bedrooms have ensuite shower rooms. There is a family bathroom upstairs and a shower room downstairs. There is a separate toilet in the studio/mini gym/mini library/TV room.
We are in a village Square location, in a picturesque and sleepy part of North Devon. Ample parking. Well-stocked little village shop open for a couple of hours a day, and a wonderful Gastro pub (in normal circumstances) the Halfmoon Inn just opposite.) Oil fired central heating in almost every room, on a timer. Please bring warm footwear because the house is very old and it can get cold underfoot.
Here is a tour around our house – so get in touch if you want to know more or want to book direct – ask about special offers. You can also find us on cottages.com. (Our contact details are at bottom of this page)
DOWNSTAIRS
1. Arrival and Front Entrance Hall
https://youtu.be/VGTa5nPsjMk
2. Lounge
https://youtu.be/6A259JaTIXg
3. Dining Room
https://youtu.be/qZh21vw5IOU
Office- see below
4. Rm 6 John Slee Room / TV Room
https://youtu.be/F0NYAaW9J9Q
5. Kitchen inc induction hob, elec double oven, mini oven, kettle (SMEG kettle: press button twice)
https://youtu.be/qn3OoCgZpxQ
6. Utility & Dog Lobby & downstairs shower rm
https://youtu.be/xb-XOcKO1Fo
UPSTAIRS
7. Rm 1 George room – double (plus extra), largest room w sink
https://youtu.be/nNdaU3fMPLY
8. Rm 2 Jones Room – single bed
https://youtu.be/TBO8_bgqVJU
9. Rm 3 Martin Room – en suite double
https://youtu.be/sCAwdP5pbx8
10. Rm 4 Dufty Room – quiet double
https://youtu.be/HSPaOlkc154
11. Rm 5 Hewitt Room – en suite double, large room
https://youtu.be/PJMF3YiQw1o
12. Upstairs bathroom/shower
https://youtu.be/Hh8Bzc7VgAU
OUTSIDE
13. Courtyard
https://youtu.be/kkNZrToVFLY
14. Studio inc mini gym, tv, library
https://youtu.be/QY8my486jWM
15. The Granary – barn bedroom – old school, fab views, twin singles, (portaloo For emergencies)
https://youtu.be/lizVUXTqS-k
FACILITIES & RECYCLING
16. Woodburner in lounge
https://youtu.be/iuqUwpsL_zI
17. Fuse Cupboard
https://youtu.be/JI3HN1pHm_s
18. Heating controls (in private office; landline)
https://youtu.be/jB53oyhD1aw
19. Microwave
https://youtu.be/hbTnIc9Yioo
20. Washing machine – see utility above
21. Recycling, bins & food waste
https://youtu.be/f2UBA4uadA0
22. Broadband
https://youtu.be/YX9R1omGz2U
Please don't hesitate to get in touch if you have questions and we hope to welcome you soon!
Best wishes
Debbie
07949052208
Info @retreatsforyou .co .uk
Find us on social media (Twitter, Facebook, Instagram): @retreatsforyou