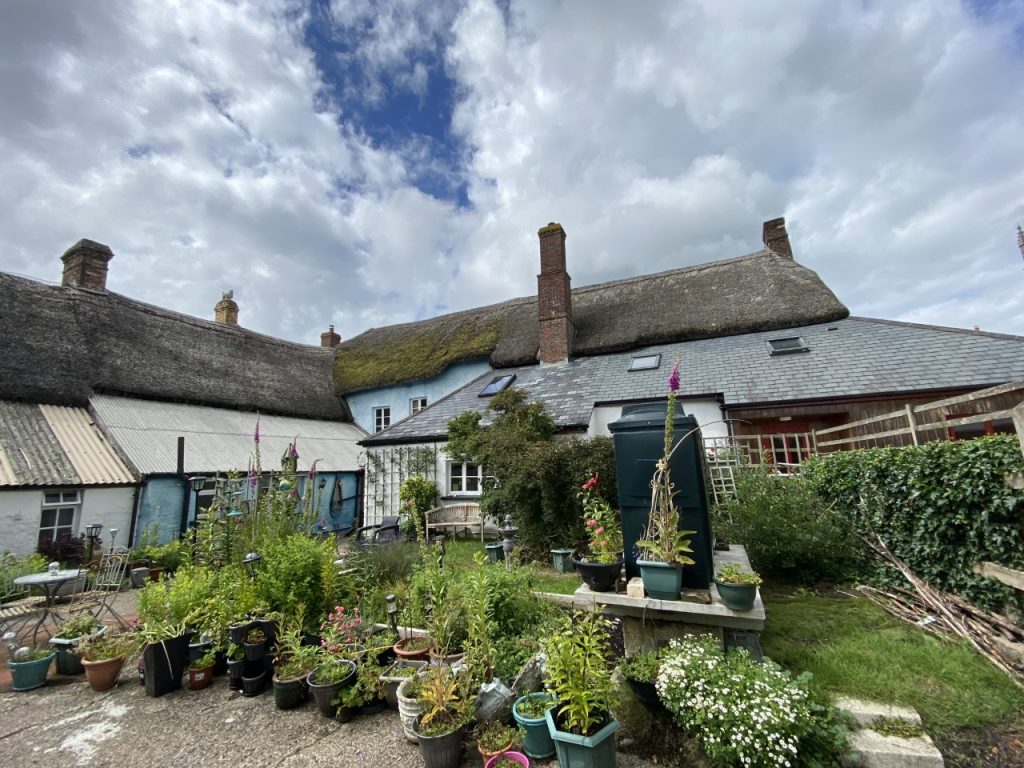 A walk down south street to the meadow (timelapse video)
Summer 2020: You can now rent the whole house as a holiday let. It is on cottages.com, search 'Sheepwash Square House', (where you can see the calendar and availability) but also contact us direct using the usual email or the mobile, all listed at the bottom of this page. (Nb Writing Retreats will continue far less often going forwards. See our themed events page and Please enquire about dates…)
From Veronica Birch, a recent guest:
We've just come back from a fabulous week's holiday staying at Sheepwash Square House. This is such a brilliant place to stay – there were 8 of us plus baby, and dogs, and the house just welcomed us in. Comfy sofas in front of the log burner gave us a chance to catch up and relax, and we spent fun evenings playing the board games provided. The dining room has a huge table for long family meals (cooked in the well-equipped kitchen which even includes an air fryer). Best of all – those blissfully comfy beds, with soft sheets and lovely downy pillows. I slept so well! Honestly, it was heaven. And four bathrooms (two ensuite) meant there was no queuing.

The Devon countryside is stunning – a real haven for all of us. Lovely dog walks nearby, plus beaches only a half hour drive away, and market towns to visit (with some really good cafes).

The village pub across the square – the Half Moon – serves delicious meals (we ate there twice, it was so good!) and I'd highly recommend it. And there is the convenience of the little shop/post office for essentials, and two – yes TWO – Waitroses, within 20 minutes (and they deliver).

We've had a fantastic family holiday and felt spoilt by all the luxuries of the house. We will definitely be back.
About us
The Court, in Sheepwash Village Square, North Devon, is a 1600s, Grade 2 listed, thatched house with a courtyard, external buildings and garden. It is grade 2 listed and benefits from several old features like an inglenook type fireplace and some exposed beams & lots and lots of history.
It is a 6 bedroomed roomy house which sleeps up to 12 (Single occupancy is max seven; More if you bring 'put-you-ups' in the studio). Outside there is a an old granary barn which is usually used as storage (but when it is occupied by writing retreat guests it has wonderful views to the distant hills). We have a walled garden, a mini gym, good broadband connection, very large rooms, Inc large dining room, large sitting room with cosy wood burner & piano, well-equipped kitchen, and rear lobby with option for dogs to stay (please see guidelines regarding your pooch).
Bedrooms have B&B type facilities such as tea and coffee-making in every bedroom, fluffy towels, hairdryer and gorgeous crisp white, cotton bedding. As it is partly my home there are other conveniences like a few lotions and bubbles, a small library, and things we use when I run retreats, like massage devices – which you are welcome to borrow – please try to return to the place you got them from, is all we ask. We also leave you a little welcome food and drink present for your arrival, to welcome you to our cosy home from home.
We are in a village Square location, in a picturesque and sleepy part of North Devon. Ample parking. Well-stocked little village shop open for a couple of hours a day, and a wonderful Gastro pub (in normal circumstances) the Halfmoon Inn just opposite.) Oil fired central heating in almost every room, on a timer. Please bring warm footwear because the house is very old and it can get cold underfoot.
Here is a tour around our house – so get in touch if you want to know more or want to book direct – ask about special offers. You can also find us on cottages.com. (Our contact details are at bottom of this page)
DOWNSTAIRS
1. Arrival and Front Entrance Hall
https://youtu.be/VGTa5nPsjMk
2. Lounge
https://youtu.be/6A259JaTIXg
3. Dining Room
https://youtu.be/qZh21vw5IOU
Office- see below
4. Rm 6 John Slee Room / TV Room
https://youtu.be/F0NYAaW9J9Q
5. Kitchen inc induction hob, elec double oven, mini oven, kettle (SMEG kettle: press button twice)
https://youtu.be/qn3OoCgZpxQ
6. Utility & Dog Lobby & downstairs shower rm
https://youtu.be/xb-XOcKO1Fo
UPSTAIRS
7. Rm 1 George room – double (plus extra), largest room w sink
https://youtu.be/nNdaU3fMPLY
8. Rm 2 Jones Room – single bed
https://youtu.be/TBO8_bgqVJU
9. Rm 3 Martin Room – en suite double
https://youtu.be/sCAwdP5pbx8
10. Rm 4 Dufty Room – quiet double
https://youtu.be/HSPaOlkc154
11. Rm 5 Hewitt Room – en suite double, large room
https://youtu.be/PJMF3YiQw1o
12. Upstairs bathroom/shower
https://youtu.be/Hh8Bzc7VgAU

OUTSIDE
13. Courtyard
https://youtu.be/kkNZrToVFLY
14. Studio inc mini gym, tv, library
https://youtu.be/QY8my486jWM
15. The Granary – barn bedroom – old school, fab views, twin singles, (usually used for storage)
https://youtu.be/lizVUXTqS-k
FACILITIES & RECYCLING
16. Woodburner in lounge
https://youtu.be/iuqUwpsL_zI
17. Fuse Cupboard
https://youtu.be/JI3HN1pHm_s
18. Heating controls (in private office; landline)
https://youtu.be/jB53oyhD1aw
19. Microwave
https://youtu.be/hbTnIc9Yioo
20. Washing machine – see utility above
21. Recycling, bins & food waste
https://youtu.be/f2UBA4uadA0
22. Broadband
https://youtu.be/YX9R1omGz2U
Local places of interest
Sheepwash pub – Halfmoon Inn
http://www.halfmoonsheepwash.co.uk/

Holsworthy is a small town and has a nice Indian takeaway – 20 mins away – http://www.indianoceanholsworthy.co.uk/

Black River Inn, in Black Torrington Devon EX21 5QE along, seven minutes drive away.
https://www.blackriverinn.co.uk/

Hatherleigh is the nearest small town just 8 mins drive away. It has (used to have) a Tuesday morning market. It has an open all hours small co-op, and a couple of other small shops. The George pub is very nice. Find more here.

Okehampton is quite a big town, has a small ruined castle, a small museum, a big co-op, Waitrose and Lidl, garden centre, DIY places et cetera. Some nice takeaway is – it is the link for the Rajpoot and other restaurants in Okehampton (25 minutes drive away).

Cinema – New Carlton – in Okehampton
https://okehampton.merlincinemas.co.uk/?forcechoice=true
Beaches
There are plenty of beaches including on the north Cornwall Coast, head for Widemouth, or Bude. About half an hour away depending on tractors on the small windy roads!
Dartmoor-
We are between Dartmoor and Exmoor. Head for Belstone on the edge of Dartmoor, just on the other side of Okehampton. Charming little village with old stone houses lots of thatch, a tea room on a Friday Saturday Sunday Monday (I think). And a nice pub called the Tors Inn. No shops. Very small village. You may see ponies, cows, and sheep wandering through the village!
An hour away –
Bideford
Barnstaple
Exeter
Tavistock
Attractions
The Highwayman Inn, near Okehampton, Britain's most unusual pub http://www.thehighwaymaninn.net/
Quince Honey Farm
https://www.quincehoneyfarm.co.uk/
Dingles under cover vintage fairground
https://www.fairground-heritage.org.uk/
Crealy theme park, Exeter
https://www.crealy.co.uk/
Take pottery class 20 mins away (pre book)
https://www.tarkapottery.co.uk/
Farm shops:
Nr Okehampton:
https://www.farmerluxtons.co.uk/
Hatherleigh:
https://www.facebook.com/pages/category/Farm/S-Edwards-Brickyard-Farm-Shop-1060044140708250/
Launceston – about 25 minutes away. Massive farm shop, garden centre and café
https://www.homeleigh.co.uk/
Also do visit Charlie Bears Museum and shop in Launceston
https://uk.charliebearsdirect.com/
Please don't hesitate to get in touch if you have questions and we hope to welcome you soon!
Best wishes
Debbie
(07949) 052 208
Info @retreatsforyou .co .uk
Find us on social media (Twitter, Facebook, Instagram): @retreatsforyou