First, I have a couple of spaces for you to come write in Feb – 18th – 22nd. There's a special deal if you book soon – taxi from Exeter St Davids is included. It's an extra special offer and I'd like my newsletter subscribers to take advantage before I put it out there to the wider media. Trainline have some good offers here. Email us by reply to get in first – 2018 prices kept atm. [email protected] .
Here's hoping for a fabulously productive 2019 and if there's any writing you need to get done this next year, let us be the place you come to, to hunker down and get it done. To that end, these newsletters from now on, will include several useful links for authors including offers, writing ideas and useful posts. Every season we will send a newsletter out, but in between you can find out all the latest via our Facebook page (here,)
If you got treated to some money to spend for Xmas, don't forget you can book a stay for just £50 deposit. Or buy vouchers for any amount for you or someone else to come. All 2018 prices still held if you order a voucher or if you book soon. New Dates Below you will find a list of the latest dates and availability, and some exclusive tips from the two publishing experts coming to do a talk in March. Plus new developments at the retreat, and updates on our author guests and their successes – after all, as we all say 'it could be you' one day – and it's nice to see that it IS them. So inspiring.
AJ Pearce 's Dear Mrs Bird – a Richard and Judy selection! How fabulous to see this news. And so well deserved. Author guest AJ's charming wartime novel was my Book of the year for 2018 in my QVC Review of the Year blog, and I can't wait for her next one. The paperback will now be found even more prominently in bookshops around the country – look out for it and several posters advertising the book. At time of writing, AJ has just hit the top 5 in the Sunday Times bestsellers list! We are so proud of our lovely pal and amazing writer.
Julie Cohen's new book makes it onto '2019 books to look out for' – pre-release! Similarly Julie Cohen my mentor and our regular tutor, has already achieved great things before her new book Louis and Louise is even released! I have absolutely no doubt this book is going to be huge – a book club favourite for sure. Do check it out as soon as it's released on 24th January with Orion books, and can be pre-ordered now.
Alison May's latest thriller joins our author guests' shelves – plus news of her fab 2019 retreats Lovely Alison May, a regular guest and now a tutor here, added her smashing thriller All That Was Lost to our author guests' bookshelves. We love getting a signed copy to display and it's a really good read, covering a delicate topic of slipping between memory and reality for a famous psychic with several secrets in her past. She's also released another since September – The Other Wife, writing as Juliet Bell. The bad news is that her June workshop has sold out. The good news is that she will be hosting a second course this September – 23rd till 27th – and again you can book direct and find out more here. Don't forget to send us a copy of your book as soon as it's published.
News from The Court
The Court is the official name of our residence in Sheepwash of course, and the latest includes – –
En-suite connections have been put into room 3, The Martin room. It will be the first bedroom to have an en-suite shower, sink and loo. Estimated finish date, by Easter. Email us to ask to reserve it for your stay. Bedroom 5, the Hewitt Room, will be next. –
We now have a selection of massage devices stored inside the footstool in the sitting room for you to use to ease those aches. It includes a new long one which wraps around your shoulders, so you don't even have to lift your arms to help those muscles after a long day's typing and a shiatsu type device to get rid of all those knots as you relax in front of the fire at wine- o'clock.
We have completed our upgrade to all of our bedding so that it is all now Egyptian cotton and deluxe high thread count. Choices of pillow available on request too. Alongside the sleep balm or spray in each room, it all adds that luxurious touch to your night's sleep.
We run a little ad in the back of the monthly Writing Magazine, and from Feb they will be running a competition to win a free 'just write' retreat here – a short story entry is required.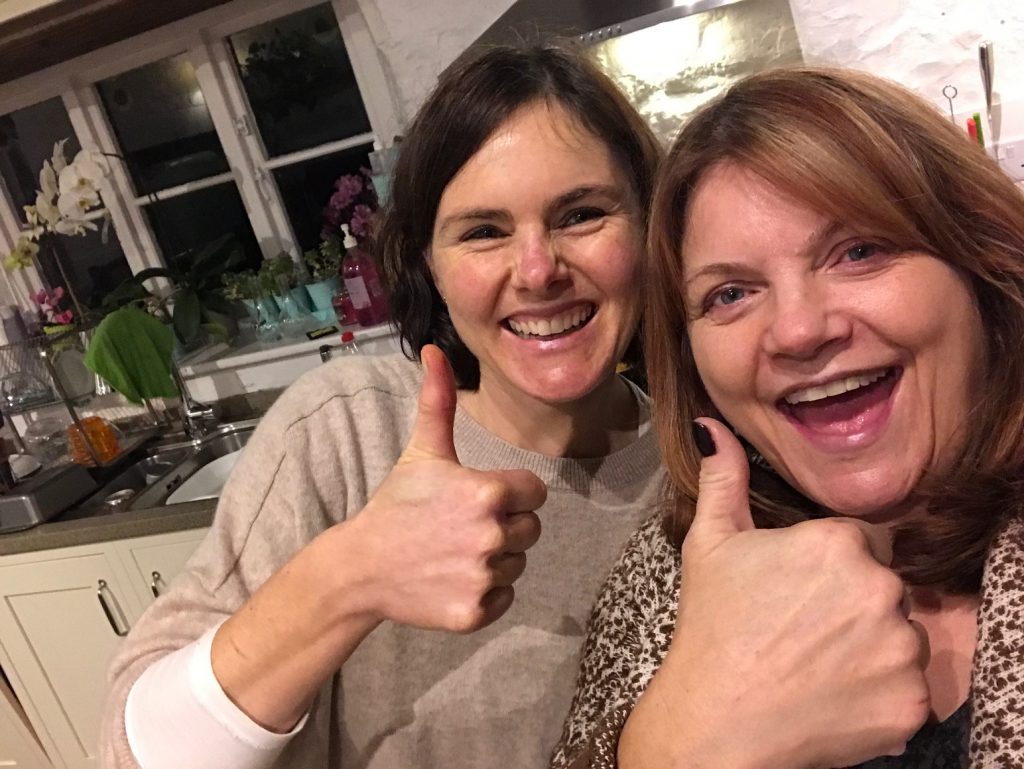 Nic's off! Our lovely helper Nicola will be off on her travels again in February once her hubby James's woodworking course finishes. He's been at the world-famous Rowden Atelier fine furniture makers, not far from us. She's been an amazing addition to the team and we wish her well in her next phase of her travels in Australia. Wendy will be here for many retreats this year as usual, and Linda returns from her Xmas Mediterranean extravaganza and will also be here helping throughout the year. I aim to recruit another 'Nicola' to help me and Caitlynne open up our weekly tea rooms, once again, in the Spring. Fingers crossed!
One of the last retreats Nic helped me run, featured an international line up of guests! Gilad with his Israeli/Spanish roots, Martieke from Netherlands, Shani from New Zealand and Bridget from Dublin. With Nic from South Africa it made for a very interesting weekend. It was the first time we've offered a weekend for ages, and sold out very quickly.
Whether you are coming from afar, using RFY as a stop off on a trip, or coming to get those words written, be they prose, poetry, a PhD or your novel, we are very happy to welcome all comers.
ADVICE FROM THE EXPERTS – An occasional series featuring tips for beginners, directly from the people that matter.
Charlotte Mursell, Commissioning Editor, @HarperCollinsUK –
Firstly, don't be too worried that you've dotted all your I's and crossed all your T's – at this stage, it's really about the story, so don't panic if there are a few typos! That said, do give your first page a double and triple check… – Really think about your covering letter, this isn't an opportunity to give a long summary of the plot – it's important to keep it concise, impactful and exciting. If possible, you should be able to summarise your novel in an intriguing one-liner, where it fits in terms of genre and what sort of reader it might appeal to. And of course, don't forget your contact details!
Phoebe Morgan, Author and Senior Commissioning Editor @HarperCollinsUK
Firstly congrats on the new job to Phoebe, who becomes Editorial Director at @TrapezeBooks in the Spring. Phoebe's top tips
A tip from me: make sure to really grab your reader in the opening chapter – don't spend too long meandering towards the action. There's so much competition out there that it is crucial to capture attention from the very first paragraph. A writer who does this really well is Liz Nugent – her first lines are always amazing!
Also regarding submissions, make sure you know who you're sending it to – read agency guidelines and editor guidelines really clearly and stick to them. You wouldn't believe the amount of submissions we get which don't adhere to the guidelines (e.g. people sending YA novels when we don't publish YA!)
Please note that the 'Pitch to a Publisher' weekend with Phoebe and Charlotte is almost full – do get in touch asap to book. See below.
2019 LATEST DATES, SPECIAL OFFERS AND THEMED RETREATS – just email to enquire – ([email protected] )
'Just Write' weeks in 2019 – You just come and write your story, poetry, thesis, or whatever; we do the rest – no chores, no cooking, just me-time for you to enjoy and no distractions from your keyboard. Two options available most months, mostly Monday to Fridays.
NB 2018 prices of from £95 pppn held if you book as soon as possible (will be going up to £98 or late Spring/ Summer if you opt for en suite, £115 per night). Full board includes lunch Monday to lunch Friday, inc wine at supper; all hot drinks and snacks, homemade banana bread and flapjacks etc Dietary needs catered for inc veggie, vegan, gluten free, dairy free etc. Summer house, massage devices, home mini-gym, accompanied walks if required with doggy therapy. Some advice about beginner's writing available by prior arrangement with Debbie, as is media training/interview skills – ask for details.
More info about your stay is here.
TAXI INCLUDED Selected weeks for guests coming by train with transfer from Exeter station included  – arrive by train at Exeter St Davids by 1.04pm (eg the 10.33 from Paddington) on the Monday and Taxi is included (needs three passengers minimum to book – first come first served.) Specific dates only, including weeks commencing Monday Feb 4, March 18, April 8, May 27 (no others currently planned) NB trainline has low prices atm for those journeys.
Yoga weeks with healthy eating One session daily to stretch out those aching writers' muscles – £104 pppn April 15, July 15, Aug 12,
Photography Weekend – 2019 TBC – email us to go on the waiting list.
 BLOCK BOOKING FOR WRITING GROUPS – you block book and collect the money, book five places and your sixth one is free. £75 deposit now pp (or £125pp for tutors bringing their own students) Balance payable one month before the retreat date. Several weeks available for hire in 2019 – email us now. All meals provided plus wine at supper!
SPECIALIST RETREATS 2019:
 Pitch to a publisher weekend – incl talks from Harper Collins commissioning editors Phoebe Morgan (Avon) and Charlotte Mursell (HQ) March 7-11th. Includes talk and one-to-one pitch session afterwards. More info here** £459 now, £489 later)
Alison May  – tutored workshop (SOLD OUT June 17th-21st) ) Second week September 23 – 27th Developing Your Novel – for anyone with a novel in progress, or just starting one; incl in depth one-to-one tutorials as well as optional workshops. From £555 if you book before end March 2019. You book direct with Alison – email us to put you in touch or see more here.
 Julie Cohen – tutored workshop, November date just announced! November 25th – 29th  – always sells out early – please email us asap to be put directly in touch with Julie or see more here.
Also tbc – May 6th – 10th  Developing Your Novel – another workshop for beginners  – tutor being finalised. One place already gone so be quick to email us!
OTHERS TO FOLLOW – stay signed up to our newsletter to get first refusal and early bird offers.
If you are a tutor and would like to run a week using Retreats for You, pls email us.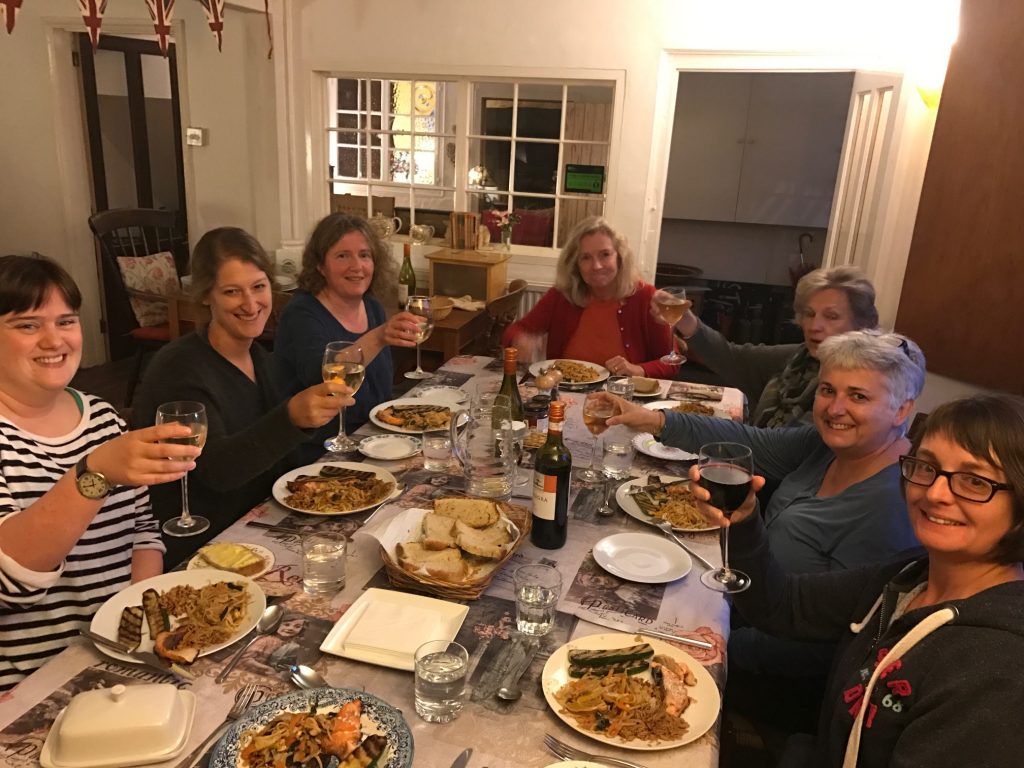 Contact us  Debbie (and Wendy and team)
07949052208 text me for urgent enquiries, or just email [email protected] 
Do come and try us out – no chores, full board, wine at dinner. Picturesque, cosy, inspirational thatched house in North Devon. Very affordable as well, given what is included! You just have to lock yourself away and get that book done!
From £95 pppn (yes really!) 2018 PRICES Do email us to book – [email protected]
Deposit of just £50 secures your place, the rest payable on or before arrival.
USEFUL LINKS AND TIPS
Jericho Writers – run many courses, workshops and the annual York Festival in the autumn. Editing services too, for serious self-publishers. Every book should be carefully edited by a professional. More here.
Robert McKee – runs screenwriting workshops internationally. Been to a couple of his 'Story' workshop weekends in London and one day specialist genre days. Bob does a great vlog with a piece to camera discussing many specifics of story, free on his website. More here.
Chez Castillon – like RFY but in Bordeaux¬! Just released their new programme of workshop weeks featuring tutors – plane fare is extra but en suite rooms and one of my favourite writing places if you can spend more time further away. Eg Jane Wenham Jones' course from £950 6-12 April. More here.
SOCIAL MEDIA Please follow us on our social media – that's where most of our news appears first:
Twitter
Facebook (please add your review if you would like to, we really appreciate it! Go here – dozens of top rated reviews.
Instagram (new)
Copyright © 2018 Retreats For You, All rights reserved.
Mailing address is:
Retreats For You
The Court
Sheepwash
Beaworthy, Devon EX21 5NE
United Kingdom
GDPR policy on our website
Links
AJ Pearce's fabulous Dear Mrs Bird, now a Richard and Judy book
Pre-order Julie Cohen's new novel Louis and Louise
Rowden Atelier fine furniture makers, Devon
Phoebe Morgan – commissioning Editor co-hosting March 'Pitch to a Publisher' event with Charlotte Mursell
Charlotte Mursell – commissioning Editor co-hosting March event
Bio – Editor at HQ, HarperCollins, publishing fiction but also some non-fiction. Previously, she worked for Harlequin UK for two years. Earlier this year she published international bestseller and Reese Witherspoon Book Club pick The Light We Lost by Jill Santopolo and recently published the powerful feminist dystopia VOX by Christina Dalcher and the laugh-out-loud debut The Plus One by Sophia Money-Coutts. Next year, she will publish Period. the taboo-busting, myth-debunking manifesto from broadcaster Emma Barnett. In 2017 she was selected to take part in the IV Fellowship Programme in Toronto.
She says, 'I'm looking for page-turning commercial women's fiction with a compelling, hook-driven story. I'm hoping to find a big epic love story such as One Day or Me Before You, I love an early 20th Century setting and I particularly love a story that manages to surprise me, such as Kate Atkinson's Life After Life. Ultimately, I am looking for those unforgettable, thought-provoking stories that remain with the reader long after they have turned the last page.'
"At Avon HarperCollins, we are currently open to commercial fiction submissions, primarily in the crime, psychological suspense, saga and women's fiction genres. Regrettably we cannot accept science-fiction or Young Adult submissions. We opened up to submissions in February and have since taken on seven exciting new authors who will all be publishing over the next year. We look forward to receiving more brilliant books!" Avon Harper Collins Submissions info .