Firstly, if you fancy a freebie, on Wednesday Feb 9th at 6:30 there will be a free session from Reedsy via Eventbrite, online: how to write a novel in three months, click here.
Secondly, I list below our latest new dates. Once again we are quite limited so get in quickly.
And thirdly, see below for our news section including an update on transport links!
The reason we are more limited is due to the new set up, namely (just in case you missed it), that since lockdown I now run just one retreat per month, 6 to 8 times a year. The rest of the year RFY is mostly available as a holiday let.
2022 Availability
– January 26th, SOLD OUT Julie Cohen's Masterclass (waitlist may be available only, contact Julie direct or message us).
– February 7th, All but one place is SOLD OUT Just Write week (no tutor), nb waitlist available in case of last minute cancellation.
– March 13th, SOLD OUT Poetry with Claire Dyer
– April 4th, NEW, but half gone, Just Write week. Be quick especially if you'd like to book one of the two ensuite bedrooms, assuming they are still free.
There may still be a couple of places on the following:
– May 2nd, Alison May workshop
– June 13th, Rebecca Horsfall (half gone)
– September 19th, Develop & Pitch a Commercial Novel w Rosemary Dun
– October 17th, Alison May (usually sells out)
– November 21st, Just Write 

Almost all are four nights, own cosy room, breakfast, lunch, afternoon tea/coffee/cake, supper with wine. Just Write weeks – no tutor – are around £109 per night. Ensuite bedrooms go first and fast, £29 supplement per night. Other prices vary, please see links.
NEWS
We have been revamping and painting, the kitchen in particular, but since I moved in more than five years ago now, nearly everything that needed desperately to be done, has been completed. Daisy dog is still happily living in Kent so we are doggy-free for retreats. People are loving the new summerhouse with its swing chair and power. The sun sets in that corner of the garden with magical glowing golden rays, and we had some wonderfully warm days again in 2021.
We are looking forward to reopening for 2022, with the amazing Julie Cohen and her in demand workshops, and it's not just because she is the master of 'show not tell', the Queen of post-it plotting, but also because she tweets things like this –
There will be a couple of new signature dishes this coming season as well, and our trademark home-made cakes and locally-bought produce to enhance your stay.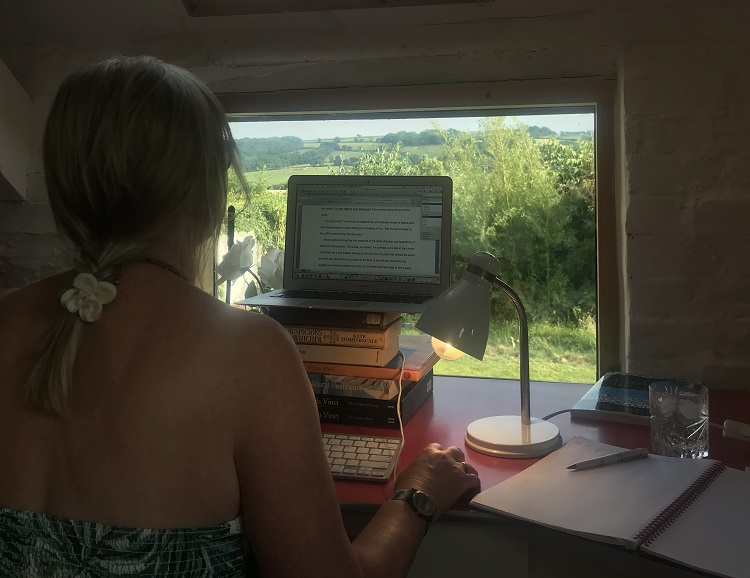 We ask for £125 deposit upfront, and the balance due about a month before arrival. Many tutors book you direct, handling everything themselves. Just contact us and let us know which workshops you are interested in, and I will immediately let you know the availability. After such a sell-out year in 2021, we will hopefully be saying yes to a few more enquiries this year, so take advantage and book soon!
Just press reply to this email, and put [email protected] into your contacts, if you don't mind!
Finally and conveniently, local town Okehampton now has a regular train service! (One of the first, in the latest reforms, to reopen.) There are services every day via Exeter and the cab ride should now be less than £20 and is only 25 minutes away – which I know will delight a lot of people!
Looking forward to hearing from you and hopefully at some point this year, welcoming you to our cosy home from home in picturesque North Devon.
Best wishes
Debbie
PS next year there may be far fewer retreats available, as 2023 is a big birthday year, so do take advantage of booking them now rather than thinking you'll come one day, and then one day never comes!