Guess which room is now bookable!! Plus, help with self-publishing; and 2021 Retreats Calendar
Firstly, a heartfelt thanks to all who have postponed and transferred their 2020 bookings till 2021. We could not have done it without you. As you may know we are now a holiday let but RFY continues! We will be running on average one retreat per month going forwards from early next year and for the foreseeable future. We have had massive setbacks this year as you can imagine, but every little helps. And thanks to the couple of block bookings that have come in – if you have a group of friends, don't hesitate to ask about hiring us as a self-catering retreat and using the Gastro pub opposite for food. I have a special rate.

2021 Calendar
At time of writing, the only remaining 2020 'just write' retreat (in November) is fully booked. So see below for the dates in the diary, from beginners to advanced novel writing, from memoirs to poetry.
Our only FOUR NIGHT 'JUST WRITE' retreats currently in the diary are now:
January 25th 2021 (just released, first come first served, especially for the two ensuite bedrooms which now get booked up almost immediately when bookings start coming in. £29 per night extra)
May 10th (my birthday!!) One en suite already gone.
As a treat, for the first people to book, I am retaining the £98 per person per night full board retreat price.
There may be another one later in the autumn next year. There is also a possibility of one in June but that's to be confirmed. We are not running any during July & August in 2021.
See below for more info about what is in the calendar and contact us please, asap, if you want more details.
Re-evaluation
I don't know about you but lockdown has prompted a whole new chapter in my life. Being in one place and having my own bathroom again (don't ask) for my weekend work in London at QVC, led me to move into a little flat next to my mum. It made me realise what's best for me, and what's not. Spending more time with family will become a priority, especially now my two little granddaughters, aged nearly 2 and nearly 3, have become like shining stars in my universe, and I can't help but gravitate towards them.
Plus having put other matters to bed and found better ways to run the various aspects of my (very full) life, I have once more resumed finishing "French Or Dutch", the book I've been working on for as long as I've owned the retreat. I hope there will be some news for you if you visit me in the future! And thanks Julie Cohen for being a fabulous and very patient mentor.
Julie Cohen – Author Focus
Talking of the lovely lady, and very talented award-winning author, well done if you manage to obtain a place on her postponed level waiting course for more experienced writers. Places sold out almost as quickly as the event was announced. But what makes this talented award-winning author tick? Go here to see more about our most coveted tutor and the lady who introduced me to Retreats For You five or six years ago.
Alison May – Dates just released
But don't despair if you are looking for a superb week filled with learning, laughter, and awesomeness, as witty writer and tutor, Alison May, has just given us three more dates. She is also a force to be reckoned with when it comes to learning about writing. Go here to find out more about Alison (where she blogs too!) And contact us as soon as you can if you are interested in one of her workshop retreats here in 2021.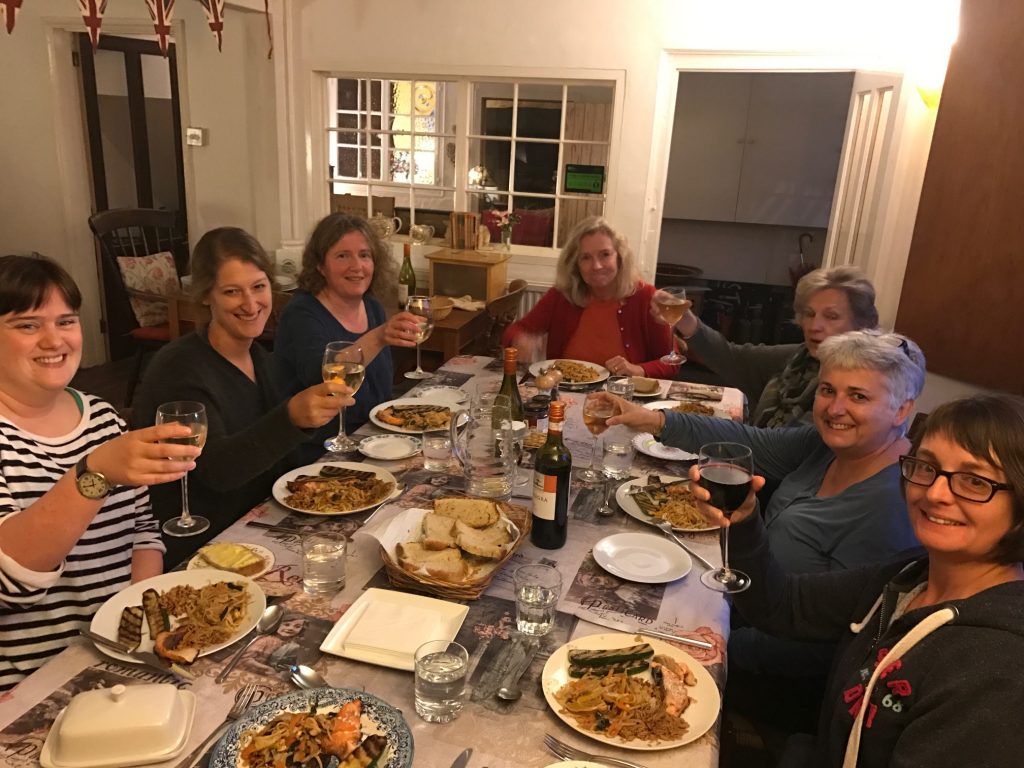 New Menu
One of the benefits of being left to my own devices for most of the lockdown for months, was practising my cooking skills. With the aid of recipe boxes like mindful chef, I have added several more dishes to our repertoire. Look out at future retreats for the likes of Tandoori tofu with broccoli and brown rice, almond pesto baked cod, and lots more, as well as Wendy's Monday roast, and some of your favourites.
Book Recommendations & Guest News
A big well done to regular guest Ella Albright (Nikki Moore) who released her book The Last Charm, which has been getting great reviews!

Emma-Claire Wilson, what can we say to this tweet other than massive hearty congratulations!
Glennon Doyle's 'Untamed'
My current book crush, is Glennon Doyle, who writes brilliantly in 'untamed: stop pleasing, start living.' Our very own Adele , the singer, has lost seven stone, and she says this book was a turning point – she wrote on Instagram last month that reading this book, written by this successful American motivational blogger made her feel like she 'flew into her body for the very first time'. And realised she wasn't supposed to be eternally stressed and run ragged. I must admit it's written in a very entertaining way, filled with anecdotes and observations, and peppered with philosophies to help many of us address a life spent putting others before ourselves. I have found myself buying it as a present for several people since starting the audiobook, read by Glennon herself. Highly recommended. No doubt it will be added to our little library in the studio, when you arrive.
Updates and Alterations
Incidentally, the studio now has even more space since all my clothes are down in London and I've removed the two wardrobes that were at one end. You can see the beautiful garden more easily now :-).
Moving more of my stuff to London means that room one, the George room, is now available for rental during Writing Retreats. It is massive, double aspect, and has one of the best mattresses in the house. Go here to find out more about the George room (supplement applies).
A cheeky request!
For those who use Trip Advisor, we'd love to hear what you thought of your stay via a review on their website. Particularly as we're trying to get more attention for the Holiday Let side of things, it would be much appreciated.
Finally before signing off, take a look below at a lady called Linda Langton and what her service offers. She has an impressive stable of authors for whom she has obtained publishing deals, see her website. We hooked up via LinkedIn as we both went to the same university, London School of economics. She has an attractive offering for anybody wanting to get in touch with her about getting a book published.
That's it for me for the time being, back to the book writing. I'm actually taking a few days' break in Hastings with my mum n co in a caravan, at the site we used to go when we were kids. This week I have come second at bingo, and was trounced at gin rummy. So I thought I would write to you guys instead! Then as a treat I will allow myself to watch the new series of Cormoran Strike, based on 'Lethal White', the latest J. K. Rowling/Robert Galbraith sleuthing adventure. We know how to live :-). Well, I do like to be beside the seaside.
Happy writing, and let me know which of the below retreats you are interested in, even if they are booked up – you never know when I may be able to arrange the next ones. And definitely let me know if you are considering a block booking for you and some friends on a self-catering basis – just press reply to this email.
Meanwhile happy writing!
Best wishes
Debbie
Please follow us on our social media – that's where most of our news appears first:
Twitter
Facebook (please add your review if you would like to, we really appreciate it! Go here – dozens of top rated reviews.
Instagram
Holiday Let Instagram – This is a BRAND NEW Instagram account where we are sharing some fun new things for our holiday let!
DATES FOR YOUR DIARY: 2021
November (2020)
16th, 4 nights – Just Write Retreat
January
25th, 4 nights – Just Write Retreat
February
22nd, 5 nights – Develop Your Novel, with Rebecca Horsefall
March
8th, 4 nights – Developing Your Novel, with Alison May
15th, 4 nights – Poetry Workshop, with Claire Dyer
April
12th, 4 nights – Memoir Writing with Marnie Summerfield Smith
26th, 5 nights – Workshop, with fiction expert, Julie Cohen
May
10th, 4 nights – Just Write Retreat
June
7th, 4 nights – Developing Your Novel, with Alison May
28th, 4 nights – Just Write Retreat
November
1st, 4 nights – Developing Your Novel, with Alison May
From LINDA LANGTON INTERNATIONAL
As a literary agent, can I help you in any way to write or publish your book through the commercial publishers? Please do not hesitate to reach out at [email protected]
If you have already published a book, we also have a literary magazine, Books On Our Radar, where we advertise books and their authors. See a recent edition on our website.
We recently started an independent publishing company Central Park South Publishing and it is having great success. Four books published and four in production. We work with a wonderful cover designer and an experienced editorial and production team, who will make sure that your book is edited and designed to the very highest standard. Your book will be offered and distributed through major bookstores, libraries, and other trade outlets in the US and UK, as well as multiple online platforms for E-books. Learn more here.
Do let us know if we can help in any way to publish or promote your book. I look forward to hearing from you.
Best wishes,
Linda
https://langtonsinternational.com/